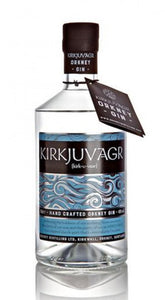 57% ABV   
Orkney Distilling - Orkney 
Kirk-u-vaar    
Founded in 2016 by husband and wife team Stephen and Aly Kemp in Orkneys capital Kirkwall. They had the idea of paying homage to the rich heritage Orkney has to offer along with the use of local Orcadian Botanicals. July 2018, they opened their brand-new Orkney Distillery and visitor centre in Kirkwall's iconic harbour front where they continue to make some fantastic gins. 
Arkh-Angell is Orkney Distillings high strength gin and pays homage to the proud seafaring heritage of Orkney. It retains the smoothness and characteristics of the Original Kirkjuvagr, but at 57% ABV, the increased strength brings new depths to its complex flavour profile.  
Garnish with a slice of fresh orange.