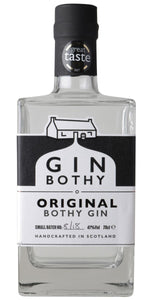 41% ABV  
Gin Bothy - Kirriemuir 
A tradition in Scotland for the old drovers and hill walkers of more recent times a Bothy is a place of shelter and warmth. Nowadays you can still walk out to a bothy which are open to the public and stay they night. Looking at the traditions of bothy's Gin Bothy use traditional methods to create their gins which are inspired by heritage and driven on development and new creations.
Infused with the finest botanicals including Loch Arkaig Scots pine needles, heather, milk thistle, hawthorn root and rosemary. A savoury gin best served with tonic, ice and a slice of orange. Simple, Scottish and refreshing. Gin Bothy is proud to support the Woodland Trust and Loch Arkaig by donating £1 a bottle to help conserve and regenerate the forest.
Garnish with a slice of fresh orange.