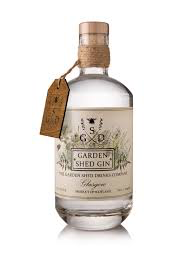 45% ABV
Garden Shed Drinks Co - Glasgow 
Founded by Glasgow Warriors (Rugby) team mates and old friends Ryan Grant and Ruaridh Jackson along with their wives Maxine and Kirstin. They took the Grant's garden shed in Glasgow's west end as the inspiration to create their own gin. Not only did the team want to create a banging gin they also felt it should have a social purpose and so went about looking for the right cause to fit their brand. From this Bumblebee Conservation and Trees4Scotland receive a donation from each bottle sold.
Garden Shed Gin is full of flora flavours and discreet spice which provide and creates a bright fresh gin on the notes and a lovely long finish. Bottled at 45% allows the gin to carry more flavour, this is a great move and has really paid off.
Serve with a little sprig of fresh Rosemary.