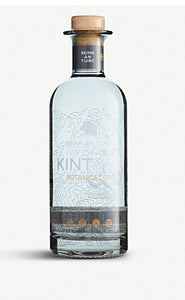 43% ABV   
Beinn an Tuirc Sustainable Distillers - Kintyre  
Beinn an Tuirc Distillery is in the former piggery building on the Torrisdale Castle Estate. In 1872 the estate was bought by the Macalister Hall family and has stayed in the family ever since.  Continuously looking to bring the estate forward led to the installation of a biomass boiler and hydro electric system. Beinn an Tuirc take sustainability seriously looking to reduce their carbon footprint where they can while continuing to produce fantastic gins.
Kintyre Gin is based around 12 botanicals, 10 classically used and 2 more unique to Kintyre Gin. The use of Icelandic Moss and Sheep Sorrel is another example of Beinn an Tuirc reducing their "food miles" and looking to the estate to what it has available in nature's larder. These two local flavours provide depth and body which allows the gin to carry the light top notes to balance it out.  
Garnish with a slice of fresh lime.