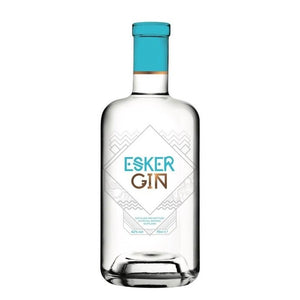 42% ABV
Esker Spirits - Kincardine o'Neil, Deeside
Esker Spirits is Royal Deeside's first gin distillery and was founded in October 2015 by husband and wife Steve and Lynne Duthie. Having started their vision on a 1 litre still in the kitchen the operation quickly moved to the garden shed. By the end of 2016 demand lead to the need for a larger distillery and a bigger still and so they moved onto the Kincardine Estate, where they now distiller and bottle their gins on site.
Esker's key botanical is silver birch sap, combined with a dozen other botanicals, including citrus, heather, cassia, pink peppercorn, and the pure Deeside water. Distinctive juniper, Highland heather and silver birch, with a hint of spice and smooth fruity notes to give a sophisticated depth of flavours and a citrus aroma. 
Garnish with a slice of fresh orange.