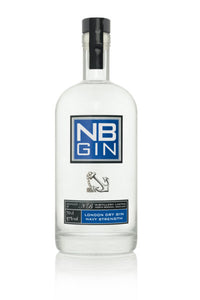 57% ABV 
NB Distillery - North Berwick  
Founded in 2011 by husband and wife team Vivienne and Steven Muir after hundreds of recipe variations over several years. From their initial trials held in the kitchen they invested in a desktop still on which they continue to refine their recipes and distillation process. Once they had committed to the recipes, they commissioned the world's oldest and most respected still-makers John Dore to create a still of their dreams.  
NB Navy Strength Gin is a pure, clear, uncompromised grain sprit of 57% ABV. The result of the same exacting process that's been perfected and bottled to create our Original Gin, proven to be the best London Dry Gin in the world.   
Garnish with a sprig of fresh mint.