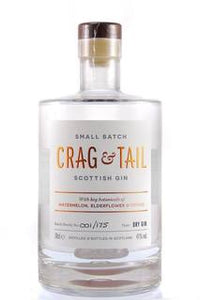 41% ABV
Huffmans Limited - Dundee 
One of Scotland's top 10 gins! A new comer making a big impact. 
Crag & Tail is the end product to a journey which has taken Gregor & Ramone through well over 200 gins (not all at the same time mind you!). Luckily for them, they have access to all these gins through another venture, Huffman's  which is heavily focused on craft spirits and beers from all around Scotland. Working with new and existing gins and their producers every day and we were even shortlisted for Growth Business of the Year 2018 at the Scottish Gin Awards, so it's a fair passion of there's! 
Well rounded and balanced, citrus immediately present, with the spice building throughout but nothing overpowering. The finish is clean and refreshing. 
Garnish with a wedge of lime.